On Monday 29th August at the AFL Sydney Juniors (Sydney Harbour) Presentation Night, Forest were honoured to have four players nominated for the prestigious Kieren Jack Award. The Kieren Jack Award is presented to a player deemed to be Best & Fairest via the umpires votes tallied throughout the home and away season.
We are so pleased to announce the following results:
Roddy Dixon placed 3rd in u13 division 2.
Kale Gabila placed 3rd in u14 division 2.
Michael Calley was announced the WINNER for u15 division 3
Euan Dixon was announced the WINNER for u17 division 3.
Euan has now won this Award three years running, and it is the second year that Kale has been nominated and has placed.
Kale was also named in the Under 14 'Allstars' Representative Team for 2016.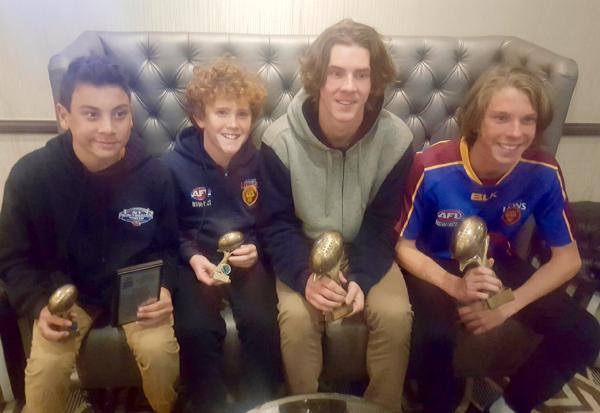 L-R: Kale Gabila, Roddy Dixon, Euan Dixon and Michael Calley